Julian Dingler (34 from Altensteig, Germany) takes over all shares from all alkus companies. This year the alkus group looks back on its 20th anniversary. The takeover by Julian Dingler is part of the long-term orientation of the company.
In the course of its twentieth anniversary, alkus has developed into the international market leader for all-plastic panels in the formwork industry with its own fully automated production facilities. The alkus® is used as formwork panels in the construction industry. It is a convincing economical and practical alternative to wood and can be repaired and seamlessly welded to large-area panels. It is not unusual for alkus® solid plastic panels to last longer than the formwork frame itself. It is supplied ready-to-install for all common wall and ceiling systems and therefore fits into all frame systems. Due to its stability and malleability, the product is also used for tunnel and special formwork or in the production of precast concrete elements. alkus® all-plastic panels are produced at two separate production facilities with highest quality and come with a standard 7-year long-term warranty. Up to now, alkus has already awarded the coveted alkus partner status to over 20 formwork manufacturers worldwide.
The strategic focus of the plastics specialist is to win further formwork manufacturers as alkus partners worldwide and to expand sales activities in the central European countries. Julian Dingler himself is involved in the German product development company, which, in addition to opening up other areas of application, also aims to continuously expand the portfolio of products. Dingler has completed an internationally oriented business management education and has relevant experience in the construction sector and project development.
The product "alkus® AL all-plastic panel" was developed in the nineties by a community of research institutes and industry and was finally presented at the Bauma 1998 in Munich as a study. On February 2, 2000, the production-ready and field-tested panel was presented to the public in the Frankfurt Opera House by Dr. Claus Steyer, the company's managing partner for many years. Since then, an international sales and service structure has been established which is being consistently and sustainably expanded.
In the course of the takeover, Guido Wille-Minicus resigns from the board of directors of alkus AG at the end of 2020 and is succeeded by Dr. Alexander Stöckli.
Michael Tschenett (CEO, alkus AG) is looking positive to the takeover regarding to the long-term orientation of the alkus group. For all the clients and partners of alkus there will be no change in their daily business.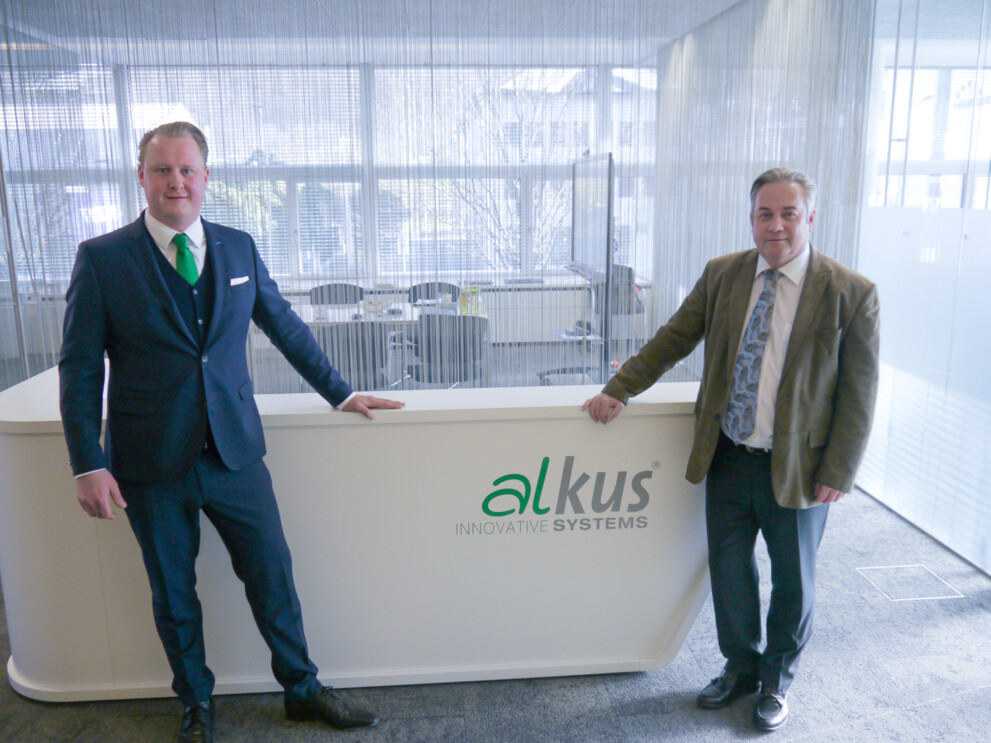 Mr. Julian Dingler and Mr. Guido Wille-Minicus at the handover of the shares. © alkus AG