The world's tallest building: 532 slabs poured on 153 floor levels with alkus®
Construction of the Burj Khalifa in Dubai, the capital of the emirate of the same name in the United Arab Emirates, began in 2004 and was completed five years later in 2009. Standing at a mighty 828 metres, the tower is the tallest building in the world and also boasts the highest number of storeys.
In December 2004, the leading property developer Emaar Properties commissioned an international joint venture made up of Samsung Corporation, Besix and Arabtec, with Turner Construction International as the project manager, to build the Burj Khalifa skyscraper. The majority of the in-situ concrete work for this project involved pouring the 532 slabs on a total of 153 floor levels. A major hurdle facing the joint venture managers was the very tight time scale and the burden of having to construct a new slab every three days. They therefore decided to use the MevaDec slab formwork system. This proved to be an excellent choice, since it is also equipped as standard with the alkus® solid plastic panel, which ensures maximum service life and minimum maintenance costs.
No construction downtime thanks to the alkus® solid plastic panel
Plywood panels need replacing after roughly 50 uses. In the case of the Burj Khalifa skyscraper, this would have represented a considerable logistical challenge hundreds of metres above the ground, in addition to extensive construction downtime. By equipping the MevaDec slab formwork with the alkus® solid plastic panel, the system was able to remain in use throughout the 28-month construction period without any re-panelling. Construction downtime and the associated costs were thus successfully avoided.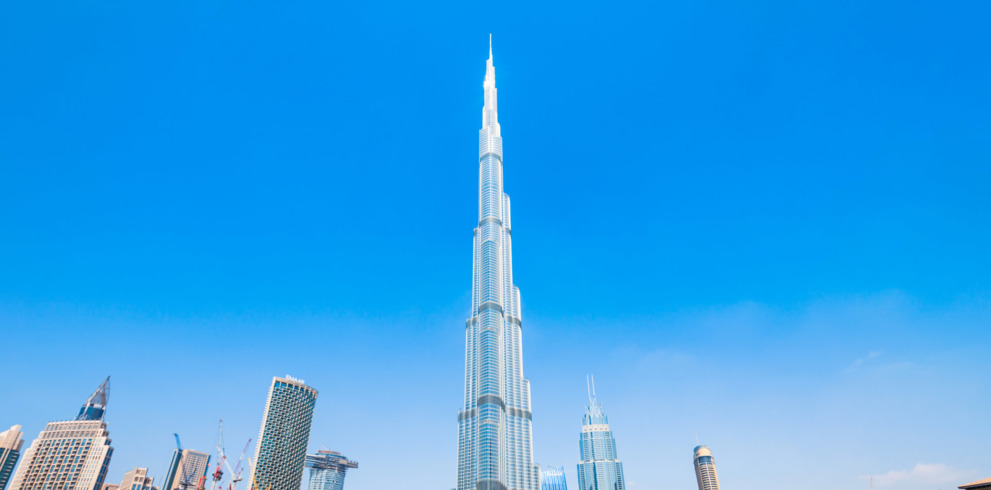 Thanks to the alkus® solid plastic panel, 153 storeys of the tallest building in the world were concreted without having to replace any panels.