Helsinki, like many coastal cities, has rediscovered the benefits of waterfront living and has shifted industrial harbour use to the periphery. The port area previously used for manufacturing is now being redeveloped into an upscale residential development. This new area is being built on a peninsula near the former port, and Länsisatamankatu 23 can be recognised from afar.
The façade of the building simultaneously fulfills several functions: during daytime, it provides shade in summer, and at night it filters the interior lighting to create exciting effects when viewed from outside. The architects Huttunen – Lipasti – Pakkonen have, through the interplay of light, shade, the use of open and closed surfaces and the inherent material surface effect of concrete, created a project of landmark character.

Thin and stable structural building components of fibre-reinforced concrete
This light and airy façade would have been impossible to implement with conventional precast reinforced-concrete components. Rieder Smart Elements GmbH, based in Maishofen in Austria work internationally and specialise in fibre-reinforced concrete façades. By eliminating steel reinforcement, the company succeeded in manufacturing slender yet strong elements.
The façade panels – consisting of different recessed squares measuring up to 4.57 x 1.87 m – had never before been manufactured in this particular way. Conventional formwork using single sheets of plywood is not available in the sizes needed and joints were not allowed. Also, since the number of uses to which they would be put eliminated wood because of surface quality, a search for a new solution was necessary.
Through various contacts, Rieder had become aware of the benefits of alkus® solid plastic boards – such as, for example, the possibility of obtaining large, jointless formwork tables through welding with a service life significantly greater than wooden formwork tables. Following initial contact with alkus® specialists, a list of requirements was drawn up. The required formwork tables measuring 5.10 x 2.40 m had to be jointless and the weld seams invisible on the concrete. To ensure secure and flexible fixing of the many embedded parts with threaded screws, every formwork table had to be provided with approx. 1000 drilled holes of various diameters, down to millimeter precision. For cost-effective production, at least 60 concrete parts were required to be cast of uniform high quality on one formwork table.

Order for seven formwork tables
alkus® accepted this challenge and was awarded a contract for seven formwork tables. In the first stage, the AL20 alkus® solid plastic boards chosen for this project were welded together to a manageable size in the plant. The next challenge was creation of the dimensionally exact boreholes on the CNC plant; the prepared boards were placed on vibration tables covered with wood and to prevent the appearance of even the most minute irregularities on the concrete surfaces near the weld seams, the surfaces of the formwork tables were given a matt finish with a rotating cleaner within the Rieder production facilities. Finally, the many embedded components were positioned and casting of the first fibre-reinforced concrete commenced.
Flawless concrete surfaces became reality
Striking the first moulds revealed that the hopes and needs for a flawless concrete surface had become reality, despite the many uncertainties. Rieder Production Manager Wolfgang Bürgler was certainly satisfied with the results: "The possibility thrills me: to obtain jointless formwork tables of any desired size with alkus® solid plastic boards as well as having a long service life."
Rieder, under the brand name fibre 3D, delivered 374 flawless, perforated façade panels of various sizes. The fact that both sides of the panels are of architectural concrete quality is another first.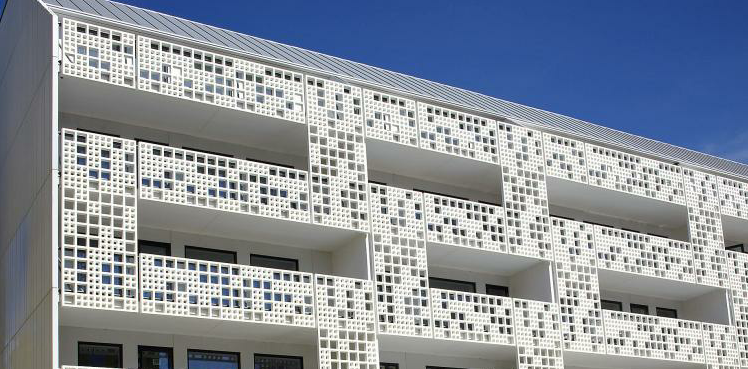 The curtain façade of brilliant white ensures privacy and the perforation, high transparency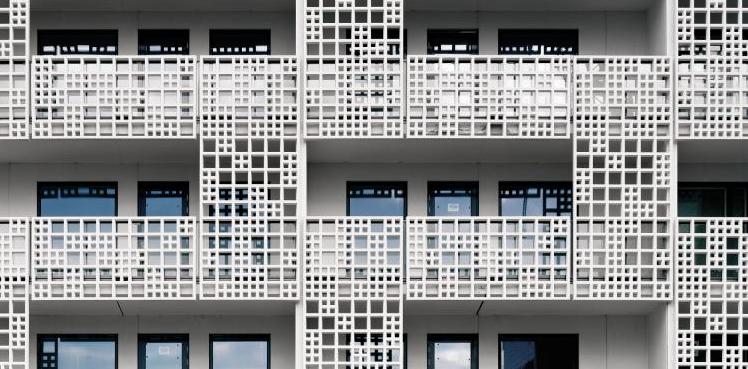 Precast panels measuring up to 4.57 x 1.87 m without visible joints were achieved with welded alkus® solid plastic board panels of appropriate sizes