From Australia to Finland, from the United Arab Emirates to Brazil: the alkus® solid plastic panel is used successfully around the world. The customer base is growing at an accelerating rate, particularly in the USA. In 2017, the increasing demand overseas led alkus to open a branch office in the USA: alkus North America Inc. This ensures greater local presence and a more effective response to customer issues.
alkus North America Inc., based in Hauppauge, New York, was established in April 2017. The staff are responsible for marketing and selling the alkus® solid plastic panel. "We have high hopes for the US market, as well as for Canada," explains Key-Account Manager Roland Urach. "With Kenneth Clisso, we have been able to attract a true formwork expert for the National Product Sales and are delighted with his appointment. His hard at work within the US construction industry and our customers: along the eastern seaboard right down to Florida, the Midwest, as well as on the US West Coast.

alkus® proving a big hit with US formwork manufacturers and construction companies
However, quite a number of alkus® customers have been busy using the alkus® solid plastic panel for more than two years. In the USA, it has proven its many advantages over the still widely used HDO/Birch plywood, and a growing number of companies are entirely convinced of its worth - especially when it comes to cost savings.
For instance, the formwork manufacturers MEVA (since 2000), RMD Kwikform (since 2005) and Aluma (since 2016) use alkus® as standard in their US formwork systems – and all three companies are now official alkus partners. "We value the good quality of the alkus® solid plastic panel", says Bambos Peyiotis, Director of Operations North America Forming & Shoring at Aluma. "An improved lifespan compared to plywood, flawless concrete finish and, in addition, the reliable delivery from alkus AG."
In 2019, alkus® was able to supply Apache Industrial Services, a new player in the US formwork market, as a customer. The company supplies its new "Allform" formwork system with the alkus® formwork panel. The solid plastic panel is also a lucrative investment for all construction companies that employ concrete on a regular basis. Ben Roberts, Vice President of Business Development at Allen Concrete & Masonry in Florida, is convinced: "10-year old alkus® produces a better concrete finish than brand new formply."

Discover the advantages for yourself
Kenneth Clisso is convinced that although alkus'® share of the overall US formwork market is currently still small compared to plywood, it offers considerable potential: "Whenever we present the alkus® solid plastic panel, we receive lots of positive feedback. It's important for companies to see with their own eyes just how easy it is to work with and repair alkus® panels. That's why we prefer visiting interested parties at their facilities and showing them what alkus® has to offer. When I then sit down with those responsible and calculate just how much money the respective company can save by switching to alkus® formwork, the decision is sometimes made immediately."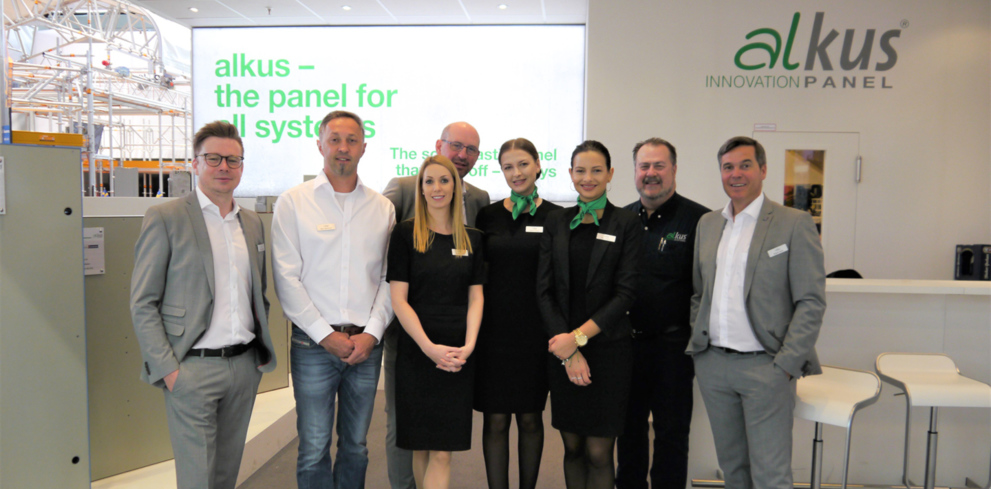 Kenneth Clisso (second from right) and Roland Urach (first from right) with the alkus team at bauma 2019