alkus AG is celebrating its 20th anniversary this year. The formwork panel manufacturer was founded in Vaduz / Liechtenstein on 2 February 2000. This had been preceded by many years of research work with one clear goal: To create a durable alternative to plywood formwork panels. And the rest is history…
alkus AG began to make a name for itself internationally at the beginning of the new millennium with its newly developed alkus® formwork panel – the first ever generally available solid plastic panel in the construction industry. "It's a sandwich panel with a foamed plastic core and plastic coating on both sides, as well as aluminium or fibre glass reinforcement," explains Managing Director Michael Tschenett. "The alkus® solid plastic panel is just as easy to use as plywood formwork panels but is immune to the common causes of plywood damage, such as swelling and shrinking. These disadvantages are also responsible for the fact that plywood formwork panels are basically disposable products that qualify as hazardous waste after only a few uses." In stark contrast, the alkus® panel enables up to 1,500 uses, since it is supplied ready for installation in the respective system and fits into the formwork of every manufacturer.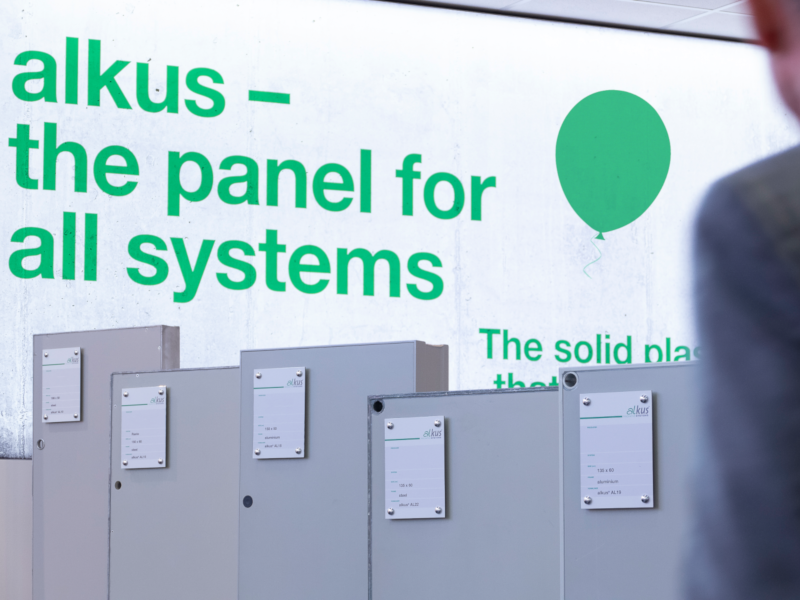 Celebrating Innovation: alkus AG is celebrating its 20th anniversary this year.
The history of alkus AG in milestones
1980
A great deal of research was necessary before the alkus® formwork panel could be used in its present form. As early as 1980, initial experiments with plastic were carried out in an attempt to avoid some of the undesirable properties of plywood. This was followed by the first steps towards testing alternatives to plywood formwork panels.
1990-1995
Between 1990 and 1995, the focus was firmly on researching, developing and testing plastic panels with various fillers.
1995-1997
Between 1995 and 1997, a consortium of research institutes and industrial partners developed the alkus® solid plastic panel.
1998
The future vision of alkus®, a solid plastic formwork panel, was presented to a broad specialist audience for the first time at bauma 1998. alkus GmbH was granted the respective worldwide patents the same year.
1999
Production facilities were set up in 1999. During this period, the first potential customers were able to get a taste for the look and feel of the alkus® panel.
2000
By 2000, it was time to establish alkus AG in Liechtenstein. The company unveiled the alkus® solid plastic panel to the world at the Frankfurt Opera House. Mass production of the panel started the same year. MEVA, a major international formwork manufacturer, was soon convinced of the benefits and converted its standard formwork panels to the innovative alkus® product.
2001
The alkus® panel was initially presented at bauma 2001 on alkus AG's very first stand, measuring just 40 m2 in size.
2000-2007
Between 2000 and 2007, alkus AG began to grow its international customer base. The formwork panel proved to be incredibly durable: The number of uses with the very same panel increased from 681 in December 2004 to 700 in December 2005 and to 1012 in December 2007.
2007
In 2007, alkus AG became the first manufacturer worldwide to offer an extensive 7-year warranty on its panels. Since then, customers receive a 7-year warranty against typical formwork problems, such as rotting, discolouration, surface irregularities (ripples), deteriorating flexural strength and UV resistance, when purchasing an alkus® panel.
2009
By 2009, further formwork manufacturers had been acquired, including players in the Belgian formwork market: Since then, BECONA has been using the alkus® formwork panel as standard in its systems.
2010
alkus AG celebrated its 10th anniversary in 2010. RMD, yet another large and internationally renowned formwork manufacturer, started to convert its range of formwork products to the alkus® panel. This example was followed in the same year by the Brazilian manufacturer BKS.
2011
In 2011, SH Formas, another formwork manufacturer from Brazil, decided to use the alkus® solid plastic panel in all of its systems as standard practice.
2012
alkus AG has been certified to the quality management standard ISO 9001 since 2012.
2013
By introducing alkus® Mobil – a fully equipped service vehicle for on-site calls – alkus AG was able to expand its range of services for customers in 2013 and to lay the foundations for further business growth.
2014
The formwork manufacturer NOE Schweiz switched to the alkus® panel in 2014.
2015
2015 was also a highly successful year for alkus AG: This year alone, Aluma Systems, the French formwork manufacturer Jean Four-Eurobress, Construsistem based in Mexico and the German formwork manufacturer Mayer Schaltechnik all decided to convert their systems to the alkus® panel.
2016
In 2016, the internationally recognised Austrian formwork manufacturer Ringer made the switch to the alkus® panel. The Swiss formwork manufacturer Tobler also decided in 2016 to use the alkus® solid plastic panel in all of its systems in the future.
2016-2017
A second production facility opened in 2016/2017.
2017
In 2017, alkus AG was also able to win the Australian formwork manufacturer Royal Plywood as a new customer. Ever since then, the company has been using the alkus® formwork panel in its systems.
Through the development of a direct sales offering in Germany, Austria and Switzerland, alkus AG has also been able expand its target audience. Besides formwork manufacturers, the company now also specifically addresses the 'additional market' of formwork construction companies.
alkus AG also launched the AL 10 panel in 2017. This further development of the aluminium-reinforced alkus® solid plastic panel is particularly suitable for slab formwork due to its low weight.
As a result of increasing demand overseas, alkus AG also opened a branch office in the USA in 2017: alkus North America Inc.
2018
In 2018, alkus AG welcomed the US company Apache with its revolutionary "Allform" formwork system as a new customer.
2019
In 2019, alkus AG converted existing business relationships with formwork manufacturers into an official partner programme.
Due to increasing activities and customer demand, alkus AG relocated to a new and larger warehouse in Sulz, Austria, in the same year.
bauma 2019 was also very successful: On its own stand, which – in addition to a product presentation area – once again offered a demonstration zone for repairing and preparing panels, alkus AG was able to convince the many visitors of the advantages of its formwork panel.
2020
alkus AG has started the anniversary year 2020 full of enthusiasm and with around 800 regular customers worldwide. To mark its 20th anniversary, the company will be releasing a video in the summer full of interesting facts about the alkus® solid plastic panel. Under the motto 'Celebrating Innovation', alkus AG intends to build on its success story in the anniversary year, while laying the foundations for an equally successful future.